What is Wicker?
Information on the properties of Jamaican Wicker and the difference between Asian Rattan and Jamaican vines.
Wicker is a misunderstood word. Most people that look it up online are expecting to see baskets. Wicker is a weaving process, not a material. Wicker is a woven fiber formed into a rigid material, usually used for baskets or furniture. Wicker in history was made of material of plant origin, but today plastic fibers are also used. Wicker is light yet sturdy, making it suitable for furniture that will be moved often like porch and patio furniture.
The primary material used for indoor furniture is rattan. Rattan is a solid timber vine that grows in the tropical rain forests of Indonesia, South-East Asia and the Malay Archipelago.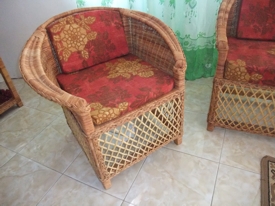 On the other hand Jamaican wicker baskets and furniture found on this site comes from Philodendron lacerum, a plant which is found in nature in Jamaica, Cuba, and on the island of Hispaniola including both the Dominican Republic and Haiti.
The air roots of this plant which can be 100 feet long or more is the part of the plant that our Jamaican wicker is made from.
On this site Dave explains the process and demonstrates with videos the process he goes through to produce his craft.
In Jamaica a plant which is called 'oak' and is a flexible but dense wood fiber is used to fabricate the structural curved parts if wicker furniture.
A picture of harvested 'oak' is shown below.